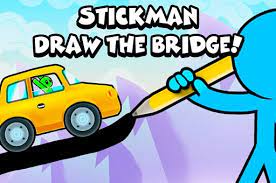 Stickman Draw the Bridge
Take control of the stick figure character once again in Stickman Bridge Constructor!
In this game, your goal is to construct as many bridges as possible. There is just one endless level, and you will endeavor to go as far as possible. To play the game, use your mouse. Your character will walk on their own, but will come to a halt when they approach the gap between the platforms. To create a bridge, hold down the left mouse button and then release it. You should take care to build a bridge that fits the size of the gap. If you make it too short, your character will fall and you will have to start again. There will be gaps of varying sizes. If they are near enough together, you may attempt to bridge one or more minor gaps with a long enough bridge, but do not take any risks when confronted with a wide gap!
Controls
Use your mouse to play this game.