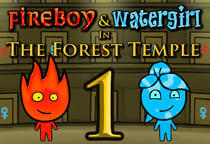 Fireboy and Watergirl
Fireboy and Watergirl in The Forest Temple.No.1: In the first game of the famous game series "Fireboy and Watergirl", the boy and the girl arrive to the forest temple. Fireboy and Watergirl need to go through different levels to find their way out. This two-players game can only be completed if the two players work together in cooperation to find the solution for each room in the temple. Fireboy can not step into water and Watergirl can't step into the hot lava, but they can help each other by pushing buttons and by moving doors.
Controls
Use A,W,D to move watergirl.
Use the arrow keys to move fireboy.