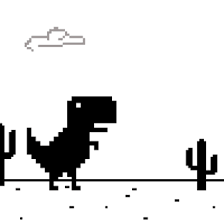 Dino Game
Dino Game is a simple T-Rex running game in which the objective is to survive for the longest amount of time possible while avoiding obstacles.
Simply pressing the space bar will get you going. Simply use the space bar to leap over any obstructions. As you go, the tempo quickens, so be sure to adjust your jumping strategy appropriately. There will also be birds; if you attempt to jump higher than the highest flying bird, you will fail.
Controls
Space or up arrow key = jump.
Down arrow key = duck.