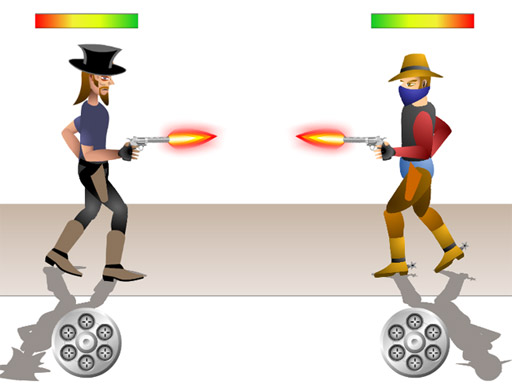 Gunblood
Gunblood is a western shooting game where only the fastest gunslingers can survive. To settle your differences, shoot each other in the street. Nine threatening cowboys may challenge you to a gun battle in Gunblood.
Keep your cursor above the barrel at bottom of screen until the countdown changes from three to zero. Next, raise your weapon and begin shooting at the evil creature trying to kill you. Your speed and accuracy will determine how well you score. It will also determine whether you are able to survive the next round?
Controls
To begin the game, click the "Start Game" button and pick a player character.

Clicking the barrel in the game's bottom left corner initiates a new round.

In order to avoid pausing the game, the pointer must be above the basket during the countdown.

Aim with the mouse and release the mouse button to fire when the timer reaches zero.