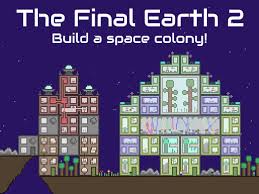 The Final Earth 2
The Final Earth 2 allows you to build vertical cities. Your goal is to build your city, and the people living there, from the very beginning. You can only make a city prosper if you have a strong workforce and good resource management.
You created a spacecraft to transport you to a different planet. Your new home will be a small globe. Your community may not be rich at first but it will grow as you provide more homes and farms to meet the needs of its residents. Once you have established a happy colony on your favorite space rock and obtained new technology, you might use your spacecraft in order to visit other small planets.
Controls
Use the mouse to play. Tip: Ctrl+Click near a citizen to follow them!