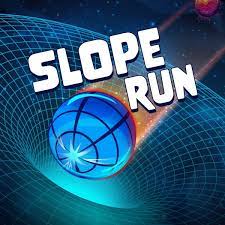 Slope Run
Slope Run is a running game that is exhilarating and fun, requires you to manage a ball through space tunnels. You must avoid falling into space and explore new worlds.
Features
There are two game modes ( Infinite Mode and Level Mode)

Leaderboards on a daily, weekly, monthly, and all-time basis

There are several courses with varied hazardous hazards.

Controls are simple, and the fun is limitless. 3D visuals that pop and lively music.
Controls
Desktop
Press the up arrow key to jump.

Press the left and right arrow keys to move left or right.
Mobile
Tap the up arrow on the screen to jump

Tap the left and right arrows on the screen to move left or right.